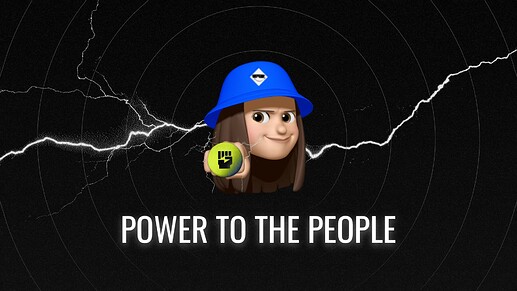 Hello,
I am WavesFunnyNode and want to share my vision for Non-Profit DAO
1. Taking back the trust
Currently, situations at Waves don't allow or is impossible to collect some funds for non-profit projects because lack of transparency and trust That's why NON-PROFIT DAO will be in different ways with harder punishment than MotherDAO
2. The main mission of Non-Profit DAO
Non-Profit DAO will be aiming to fund projects that don't have tokens in they projects (that can't be used for trading or arbitrage for generating some type of profit for the investors…) The focus here will be to bring the fresh air of developments with useful tools for the ecosystem and members.
3. The Non-profit DAO
Non-Profit DAO will Include WavesDAO and MinersDAO.
Currently, most of WavesDAO flow of money comes from Miners (2 waves from inflation) That is why we can make part of this income to be used to fund Non-Profit DAO via WavesDAO donating some part of the inflation to Non-Profit DAO. This can only happen during the new WavesDAO epoch and via voting from WavesDAO participants. The funding amount will be limited, chosen by WavesDAO participants and MinersDAO, and should be happening in a fast way and when there is a free slot of vesting part in inflation from MinersDAO, without creating inconveniences for projects who wanna apply in WavesDAO!
WavesDAO members and MinersDAO can vote for changes in the whole Non-Profit DAO, even to stop it and return the fund, but not during the running epoch and cant participate in XXX project proposals in Non-Profit DAO
4. Funding the projects in Non-Profit DAO
Projects can apply freely in the Non-Profit DAO, but need to come up with a detailed plan about the project, what is going to be built, how much will cost, and the initial fund for the whole period. Each Monthly or Monthly or Quarterly creates a proposal of transferring the funds needed for the next Monthly or Monthly or Quarterly from the guarantor wallet and this will be voted on by participants in the Non-Profit DAO
5. No mercy for Non-profit DAO projects
Each project can apply for these funds but under some person who will be guarantor, his work is to control what is happening in the project and how the fund is spent (this means will have access to the wallet the funds are transferred… multising with guarantor and project owner) this person should report to the community every Monthly or Quarterly detailed reports for what they spend the funds and what they did, etc… The chosed person by project should have min 10 PWR and 1k waves, putted in Non-Profit DAO of the project (possible some Miner to apply here to) The punishments for Investors and guarantor will be really hard like never before, if projects don't bring promises by plan, Investors will be slashed based rules on MotherDAO and guarantor will lose all his PWR and Waves in the Non-profit DAO of the project, if the guarantor is some miner, he will be punished 80% of his PWR that are staked (+Buybacked) and rewards in WavesDAO, punishment timeline will be chosed by project initial plan of process, this mean if project bring plan for 1 year and want fund for whole year, same period of time will be using for punishment timeline (this can be voted for increasing) The confiscated PWR (funds) from guarantor will be used to recover the Investment of WavesDAO and Investors from X project at Non-profit DAO. People participating in Non-Profit DAO can always vote for the unsuccessful of the project or propose changes to the project!
Some additional options:
Non-Profit DAO can be separated into another Non-Profit DAO for some projects with % funds from treasury from the main one

This will give rights to WavesDAO participants to execute the individual DAO to some project and funds to be returned, not like the current WavesDAO. If 1 project fail, this means all participants will be slashed
More funds projects want = more divine by batches to avoid running (this mean they need to create often proposal for transferring the funds)

If some projects don't show good results during the last week or month, DAO participants can reduce the funds for the next week or month
Example: For next month I want 4k, but participants decide to give only 2k because of bad results past month
If the project applied for a total of 10k from the treasury, but finally only spends 8k (because of punishment) Funds (the $2k) Can be returned to the main Non-profit DAO or shared with participants
As a participant in individual DAO for some project, you are unlimited to making punishment for the project (Like fines, requesting some changes, etc.)

Non-profit DAO can be funded by tokens from WavesDAO treasury, like XTN, USDT…

We can execute using WavesDAO funds and collecting funds via donations, but punishments and main steps of processing should be the same

Possible if the guarantor is miners, his WavesDLP is to be used for the Punishment too

The whole idea can be used For-Profit and implemented in the WavesDAO (more specific steps 4, 5)
In short:
Restoring Trust: You acknowledge that trust and transparency are lacking in the current situation at Waves, making it difficult to collect funds for non-profit projects. The proposed Non-Profit DAO aims to address this issue with stricter governance and harsher penalties for misconduct.

Main Focus: The primary focus of the Non-Profit DAO is to fund projects that do not involve tokens for trading, arbitrage, or profit generation. Instead, it aims to support projects that provide valuable tools and developments for the blockchain ecosystem and its members.

Structure: The Non-Profit DAO will consist of WavesDAO and MinersDAO. The funding for the Non-Profit DAO will come from a portion of the income generated by Miners (2 waves from inflation), subject to voting by WavesDAO participants. Funding decisions should be made quickly and without causing inconvenience to other projects applying to WavesDAO.

Funding Process: Projects seeking funding from the Non-Profit DAO can apply by providing detailed plans, including what they intend to build, cost estimates, and an initial funding request for a specified period (e.g., months or quarters). The community within the Non-Profit DAO will vote on whether to approve these funding requests.

Accountability: Each funded project must have a guarantor responsible for overseeing the project's progress and expenditure. The guarantor will have access to the project's wallet, providing transparency. Detailed reports must be submitted by the guarantor to the community on a regular basis (monthly or quarterly).

Punishments: Strict penalties will be imposed on both investors and guarantors if projects fail to deliver on their promises as per the agreed-upon plan. Investors may face slashing based on rules established by the MotherDAO, while guarantors may lose all their PWR (Power) and Waves in the Non-profit DAO of the project. If the guarantor is a miner, they may be punished by losing 80% of their PWR and rewards in WavesDAO. The confiscated PWR will be used to recover the investments made by WavesDAO and investors in the project.

Community Involvement: Participants in the Non-Profit DAO can vote on the success or failure of a project, propose changes, and influence the direction of the DAO.
With Love,
WavesFunnyNode
Link to the proposal in our working station